Original Viz: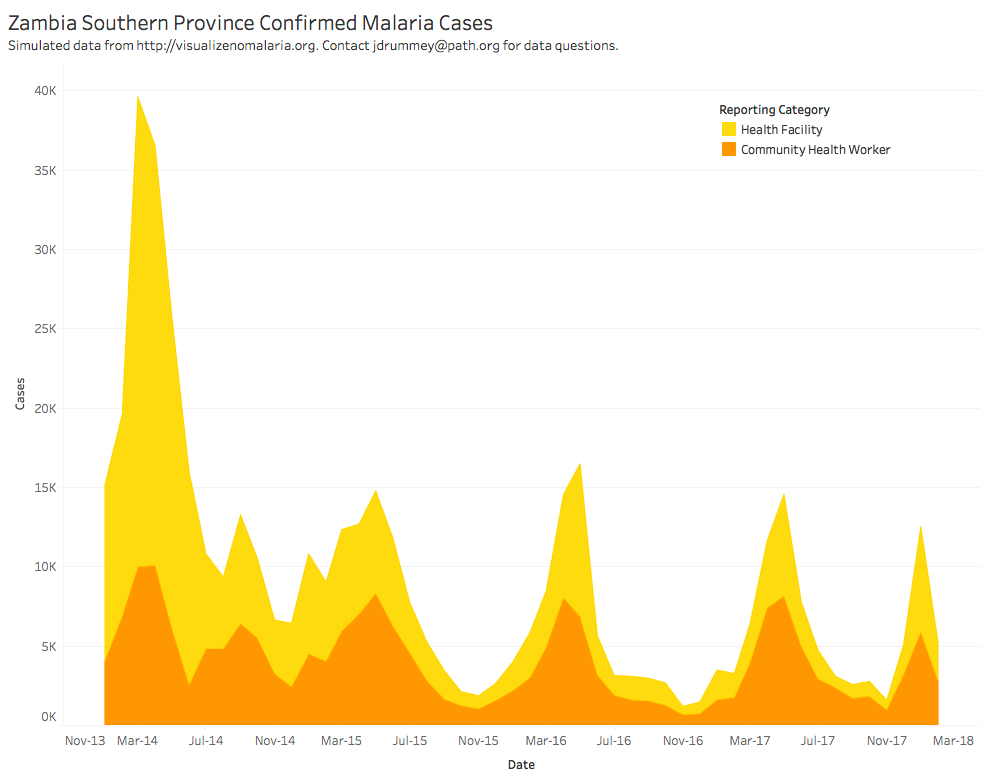 What I do not like about the viz:
The is some clutter. The gridlines could be removed, the date label is not necessary since the years already indicate that the x-axis is populated with date values.
The choice for an area chart is questionable. Area charts are usually the most useful when leveraging it as a stacked up area chart which indicates a part-to-whole relationship. More detailed information about this can be found in the following blog-post: https://www.fusioncharts.com/blog/line-charts-vs-area-charts/ Since this is not the case here, a line chart would have worked just as well and would create a cleaner look.
I do not like the choice of color. Yellow and orange could be mistaken for a continuous color palette for a continuous variable. Since the dimension Reporting Category is a discrete variable I would avoid possible confusion by choosing two colors which can clearly be distinguished from each other. A possible choice could be yellow and blue.
The viz does not tell a story. It is not explained why the distinction between Health Facility Worker and Community Health workers is important and which conclusion we can draw from that distinction. The trend seems to be an overall decrease of malaria cases in both categories but also this trend is not revisited in the title.
My MakeOver:
The data set provided additional fields to the ones used in the original viz. These additional fields included province name and area( urban or rural). I used this additional fields to show the high difference in malaria cases between rural and urban areas and to create a map which shows the southern provinces of Zambia.
The key message I want to convey
Malaria is on the retreat since the year of 2014. In both, rural and urban, areas.
This trend is also applicable to almost all states of the data sets. 
The design choices I made
I included a map which is color-coded by the number of malaria cases between the year 2014-2017. The map also provides additional context to the topic of the viz and draws the attention of the user since it is interactive.
To illustrate the trend of decreasing malaria cases over time I aligned bubbles, coded by size, on a horizontal line. The shrinking bubbles highlight the decrease of malaria cases in each province or overall. The horizontal line indicates the development over time.
The rows are split up by the area field. This facilitates comparisons between rural and urban areas.